In all her writing Nicola seeks to extend the exploration of poetry and music into imagination and ultimately, performance. Imagination is also the key to her work in vocal anatomy, using colourful diagrams and symbols to aid and embed learning.
She has written columns for a wide number of national and local newspapers and for BBC Radio 4. She has been published extensively in music-related media such as The Singer, Classical Music Magazine, British Music and many other publications from The Times to BBC History magazine. Nowadays her scriptwriting focuses mainly on poetry, music and the magical interface between these two forms. She also co-writes (with Dr Alan Watson) anatomy books for singers with a focus on the sound and breath mechanisms.
Praise for A Singer's Guide to the Larynx
"
The figures are clear and beautiful, simply delightful, and I think the knowledge presented in the text is hugely important for teachers of singing.
"
Professor Johan Sundberg
Praise for The Wordsmith's Guide to English Song
"
These two excellent volumes… provide a fascinating, in-depth exploration… with vivid and detailed analysis that both informs and entertains, while anyone preparing any of these songs for performance will find new inspiration and a deeper level of understanding in these very approachable and meticulously researched guides. Highly recommended.
"
Musical Opinion Magazine
"
In all, The Wordsmith's Guide is an invitation to think differently about the way we approach the singing of English song, to offer a widening understanding of the repertoire and a deeper exploration of the text.
"
Classical Music Magazine
"
A highly perceptive, thoughtful book… discerning in the way it explores the background to each author and poem…leading us through well-sculpted biography, and often excellent and insightful analysis of the poetry.
"
The Ivor Gurney Society
"
These two volumes represent a real labour of love, and one can only thank Nicola for sharing her enthusiasm and expert knowledge in this accessible and interesting form.
"
Singing Magazine
The Association of Teachers of Singing, issue 71
"
Two absorbing books… Harrison explores the poetry with insight and intelligence.
"
Journal: The British Voice Association
Creative Writing
Poetry & Script
​
Nicola wrote the script for the touring show Margarita and the House of Love and her recordings of Spanish songs have been used in an award-winning documentary about the Spanish Civil War. She is currently involved in several pieces of new writing for the stage and her latest touring show The Becoming.
Two small collections of poetry: Winetown and The Becoming were the basis for two touring shows in 2021/22. To order copies please click here.
'A Brief History of the English Rose' (online article here).
BBC History Magazine
The Becoming
The becoming tour and concert commissioned by the prestigious three choirs festival and funded by the arts council
​
See the Tour version here: https://youtu.be/xt2OsGUPCGE

Jazz concert version
New poetry, song settings and jazz improvisation around the theme of the sea.
​See the improvised jazz version on YouTube here.

​Performed live at Three Choirs Festival
"
Mesmerising and brilliant show Presented by highly talented musicians, it was a totally immersive experience . We talked of nothing else for several days after.
"
Three Choirs Festival feedback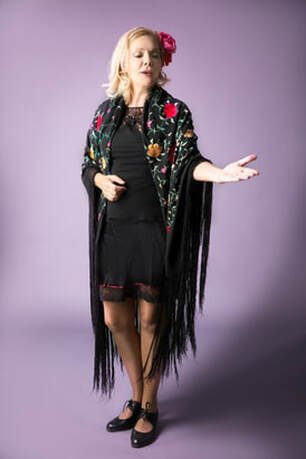 Casa Margarita – The house of love
A classical spanish show
​Energetic and sparkling ensemble in an innovative show of narrated stories, vibrant classical Spanish music, percussion, glorious Spanish art song and dance. Virtuosic solo performances from violinist Ed Brenton, pianist Guy Newbury and guitarist Gerard Cousins. Watch a short documentary showcasing Nicola's show House of Love here.